December 1, 2010
OUR HOME is great. I mean, we like it. We do pray we won't live here for­ever but it's just fine for now. Plus its really old so we can do what­ever we want to it and it will only improve. Which is nice. For me. Because I change stuff every 30 seconds.
I have a point. My home has no stor­age– no closet space. I hate it. I tend to get more irri­tated about this in the win­ter when all the coats/hats/scarf/winter crap comes out and I have NO place to put it all.
I know you are really sad for me, but DONT WORRY. I fig­ured out a very nice alter­na­tive to hav­ing no hall­way closet.…so all you peo­ple out there with small old houses can use this idea too. I mean, its not rocket sci­ence, but WHATEVER, I am excited.
I hid it right behind the front door. Oh, and I rec­og­nize that it already looks sloppy with all our junk…but THIS IS REAL LIFE PEOPLE. I don't just have one nice scarf and a pretty umbrella to hang.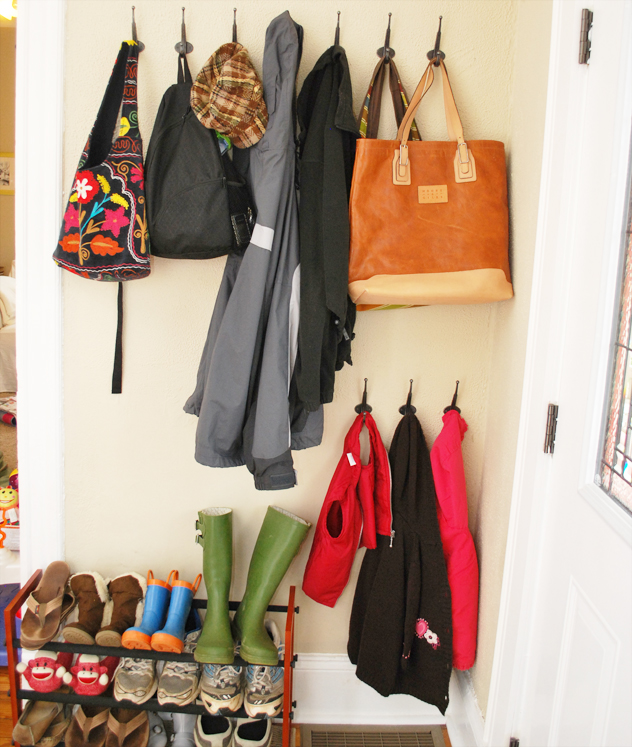 The hooks are from IKEA (2 for $5). I bought 10 of them and hung 3 of them low so Ella can hang all her stuff on her own (less for me to do).
Cheers!
s
Pin It