June 28, 2012
I told you I had a mas­sively big and beau­ti­ful sap­phire blue piece to show you. Well, meet No. 42. This was one of those pieces I bought with out a plan. Meaning…there is NO WAY I am going to be able to ship this to a client…we don't really have a place for it in our home…but it looks like a giant's desk.…so how can I pass it by?? So, it went home with me. And it stayed home, untouched forEVER.

Then one day, my sis­ter decided to get mar­ried (well, that is the short version)…which as I have men­tioned was kind of a big deal around here this spring and kept us busy! OH…let me just stop here and point out that out of all the bil­lions of guys out there, she mar­ried one named NATHAN. No, not even "Nate". NOT COOL JULIE. Way to make fam­ily gath­er­ings even MORE com­pli­cated.
Any­way, we began dis­cussing which piece would be their wed­ding gift, and she is all.…"well, I have no fur­ni­ture in our din­ing room and I need a big piece to put linens & dishes…I like that unfin­ished one in your hall­way though…". BAM. Just like that, No. 42 became theirs.
Here he is when he looked like a giant's desk…


And after a mas­sive amount of the very best shade of blue, a LOT of love and a fun shelf in the mid­dle to accom­mo­date bas­kets for linens and such…


Again, sorry for the weird pho­tos. I really don't know what I am doing when I take them and I always wait until the last minute to take pho­tos and it is always the wrong weather or time of day. Oh to be rich and hire a photographer.…anyway, this photo shows best how the blue looks in per­son…

The hard­ware on the piece was MADE for it. I bought the hard­ware prob­a­bly 2 years ago, wait­ing for just the right mas­sive piece of fur­ni­ture to use them on. So, I guess buy­ing stuff with "NO PLAN" and just because it is "cool" some­times actu­ally works out for good…no?


And here a quick snap­shot of No. 42 right after it was brought to it's new home…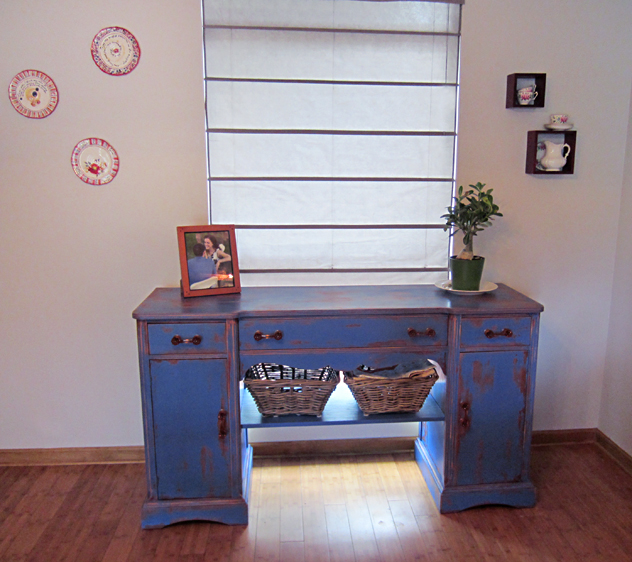 Love you both, Julie & Nathan. Thanks to G&G and Judy/Mike for mak­ing it hap­pen!
–s
Pin It