FIVEOEIGHT CO.
We are a Virginia-based couple bringing together the love of woodworking and painting to create little pieces of joy and color to brighten your everyday life.
Fiveoeight was started because sharing this is a gift to us.
We really do hope when you receive an item we have created that it is loved. We believe the most beautiful design is the simplest and most personal.
---
US
Hey! We are the Torrence family: Sarah (me), Nathan, and our 3 kids (Ella, Lincoln and Piper).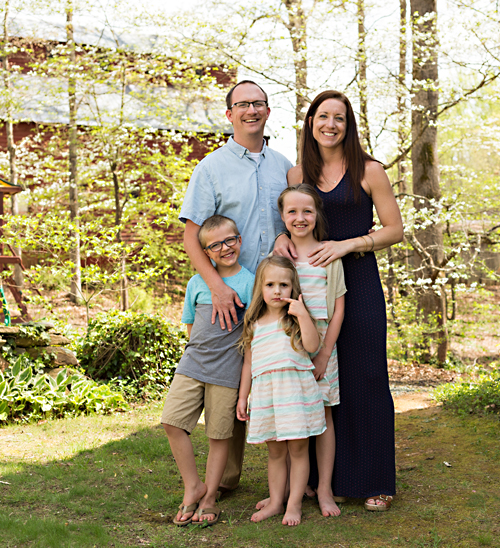 We are not a "busy" family – we have deliberately chosen to build our house on a farm and live a simpler life. To be clear, when I say simple, I do not mean that everything is fields of wildflowers and organic gardens. Quite the contrary! In fact, there is ALL kinds of drama on the daily and I rarely feel like I have things under control.
I mean our schedules and lifestyle is simple. The kids go to school, but when they are home, they are asked to "please use your imagination outside". Hah- you're welcome children!
Fiveoeight was started out of our very first home as a hobby for painting furniture. To our surprise, we began to sell our stuff! We then added some of our own furniture and our wooden animal collection shortly after.
We went through a pretty rough season as a family that lasted around 3 years. I have learned a very important thing in my long absence. Everyone needs something that fills them up/refreshes/rejuvenates.
It took me a super long time (I'm slow) for me to realize that being intentional in giving myself space to create is not just good to do…it is absolutely essential for me to be a decent human being. I become an even more impatient mom (not cool) and wife (sorry Nathan) without this creative space. It separates me from time with God also- it is so worshipful to create with my Creator.
Working on fiveoeight or really anything is definitely a family thing (whether I want it to be or not- hah). The kids are always ALWAYS with us (read: under foot) but what is fun is THAT they are now getting to the age where they can enjoy and even help ON some of the things we are doing. We really do enjoy this slower, deliberate pace.
I am thankful God put me here with this family. I am thankful for this creative outlet with fiveoeight.