I told you I had a massively big and beautiful sapphire blue piece to show you. Well, meet No. 42. This was one of those pieces I bought with out a plan. Meaning…there is NO WAY I am going to be able to ship this to a client…we don't really have a place for it in our home…but it looks like a giant's desk….so how can I pass it by?? So, it went home with me. And it stayed home, untouched forEVER.

Then one day, my sister decided to get married (well, that is the short version)…which as I have mentioned was kind of a big deal around here this spring and kept us busy! OH…let me just stop here and point out that out of all the billions of guys out there, she married one named NATHAN. No, not even "Nate". NOT COOL JULIE. Way to make family gatherings even MORE complicated.
Anyway, we began discussing which piece would be their wedding gift, and she is all…."well, I have no furniture in our dining room and I need a big piece to put linens & dishes…I like that unfinished one in your hallway though…". BAM. Just like that, No. 42 became theirs.
Here he is when he looked like a giant's desk…


And after a massive amount of the very best shade of blue, a LOT of love and a fun shelf in the middle to accommodate baskets for linens and such…


Again, sorry for the weird photos. I really don't know what I am doing when I take them and I always wait until the last minute to take photos and it is always the wrong weather or time of day. Oh to be rich and hire a photographer….anyway, this photo shows best how the blue looks in person…

The hardware on the piece was MADE for it. I bought the hardware probably 2 years ago, waiting for just the right massive piece of furniture to use them on. So, I guess buying stuff with "NO PLAN" and just because it is "cool" sometimes actually works out for good…no?


And here a quick snapshot of No. 42 right after it was brought to it's new home…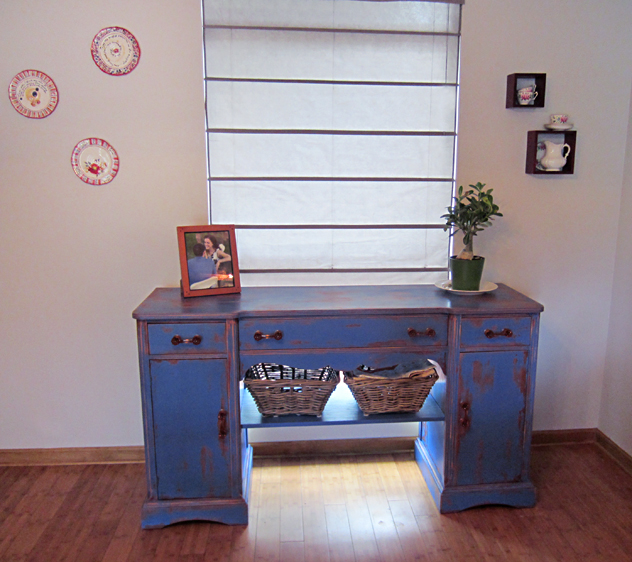 Love you both, Julie & Nathan. Thanks to G&G and Judy/Mike for making it happen!
-s